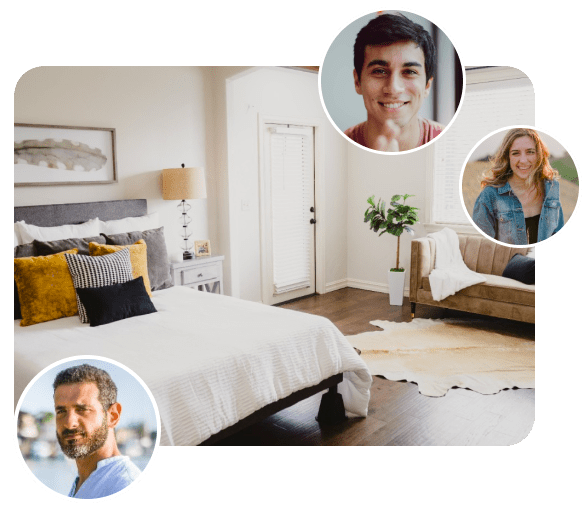 The perfect solution for owners and guests
We are the best partner for Holiday Accommodation Management
Welcome to Homenfun, a leading company in the sector. We are specialists in the management of tourist accommodation, and we offer a wide variety of options for those looking for the best experience during their holidays.
Our aim is to provide exceptional service to our clients in addition to our focus on holiday flat management. This combination allows us to concentrate on the details and ensure that every experience is unique and memorable, both for owners who wish to manage their holiday flat with us, as well as the guests who stay with us. From cleaning and maintenance to coordinating additional services, we make sure everything is in place.
In addition, we strive to provide the best possible service, making sure that every detail is perfect. Whether our guests are looking for a vacation rental for a solo getaway or a vacation home for a family vacation, we are here to help you find the perfect fit.
If you are looking for a leading company in the management of tourist apartments, we are what you are looking for. With our focus on the management of tourist homes and our commitment to customer service, we are sure that you will have an unforgettable experience.
Why trust HOMEnFun?
Increase profits and your peace of mind with our comprehensive flat management service
We offer remote accommodation management solutions, which means you can rely on us to keep your properties in perfect condition, no matter where you are.
We have highly trained accommodation managers who work hard to ensure that every property is looked after with the same level of care and attention to detail. Our professionals ensure that each property is perfectly prepared to welcome guests, and is kept clean and organised throughout their stay. At the same time, we also take care of checking floor by floor to verify that everything is in perfect condition and proceed to reform if necessary.
At Homenfun we are experts in tourism management, and we know how important it is to provide a quality guest experience. Our team of tourism accommodation managers is highly trained to meet the needs of each guest, providing exceptional service and ensuring that your stay is comfortable and enjoyable.
Trusting Homenfun means increasing your profits and your peace of mind. With our comprehensive remote accommodation management system you can rest assured that your properties are in safe hands.
Get peace of mind and transparency by trusting in a company specialising in the management of holiday homes
In an increasingly competitive market, it is essential to have a company specialising in the management of tourist accommodation that offers you peace of mind and transparency when it comes to managing your tourist flat. A good holiday home manager takes care of the whole process, from promotion and marketing to cleaning and maintenance of the properties, in an efficient and cost-effective manner, always respecting local regulations and looking after the interests of the owners. In addition, having a team specialised in the sector will save you time and worry-free, as they will take care of all the legal and fiscal aspects of owning a second home.
If you are looking for a simple and profitable way to manage tourist flats, do not hesitate to trust Homenfun. This way, you can enjoy the peace of mind of knowing that everything is under control.
Our users define us as the best tourist flat management agency in Spain
We are proud to have the satisfaction of our customers. Our users define us as the best management agency in the rental of tourist flats in Spain, thanks to our extensive experience and our commitment to quality in the management of tourist flats.
The comprehensive management of tourist flats allows us to always have a personalised service for each of our clients. Thanks to our experience as a tourist flat management company, we offer, as we have said before, transparency and efficiency so that the guests' experience is as close as possible from a professional point of view.
Our aim is to always give the best profitability to our properties, adapting ourselves to the owner, and also to the needs of our tenants so that both are satisfied.
In our tourist flat agency you will find a highly qualified and friendly team, always providing the best solutions and in constant communication with our clients.
The best tourist apartment management agency
Tourism accommodation management refers to the set of activities and processes required to manage and monetise properties for the accommodation of tourists and travellers.
A Tourist Accommodation Manager can help you maximise the profitability of your properties and free you from administrative and operational tasks, allowing you to focus on other aspects of your business or enjoy your free time.
Managing a vacation rental involves everything from promoting and marketing the property to looking after guests and maintaining the property to ensure customer satisfaction and business profitability.
Barcelona, Madrid, Baqueira, Seville, Menorca, Ibiza and Mallorca.
Yes, HomenFun can manage several of your properties offering personalised attention to each of them.